Before the COVID pandemic and resulting supply chain disruptions, transportation management rarely entered into conversations at the C-suite or board level. If or when it did, discussions most likely revolved around costs and how to lower them for budget planning purposes.
Oh, what a difference a couple of years of massive supply chain disruptions can make. Today, conversations about transportation management are the norm at all organization levels as supply chains have become incredibly complex with partners across the globe.
Supply chain professionals and organizations of all sizes are increasingly investing in Transportation Management System (TMS) solutions. In fact, according to technology research firm Gartner, the worldwide TMS market (from 2019 through 2024) will grow from $1.32 billion to $2.11 billion, for a 60% growth rate.
Organizations, large and small, have realized that they require technology to effectively manage their transportation operations. And for each of them, there may be a variety of reasons to invest in a TMS. There are numerous reasons for this, as illustrated in the figure below, ranging from increasing efficiencies to improving supplier or partner relationships.
A 2021 McKinsey & Company survey of global supply chain leaders also found that 77% were investing in supply chain visibility, plus it was the top priority of survey takers. A year later, supply chain visibility had fallen to fourth place: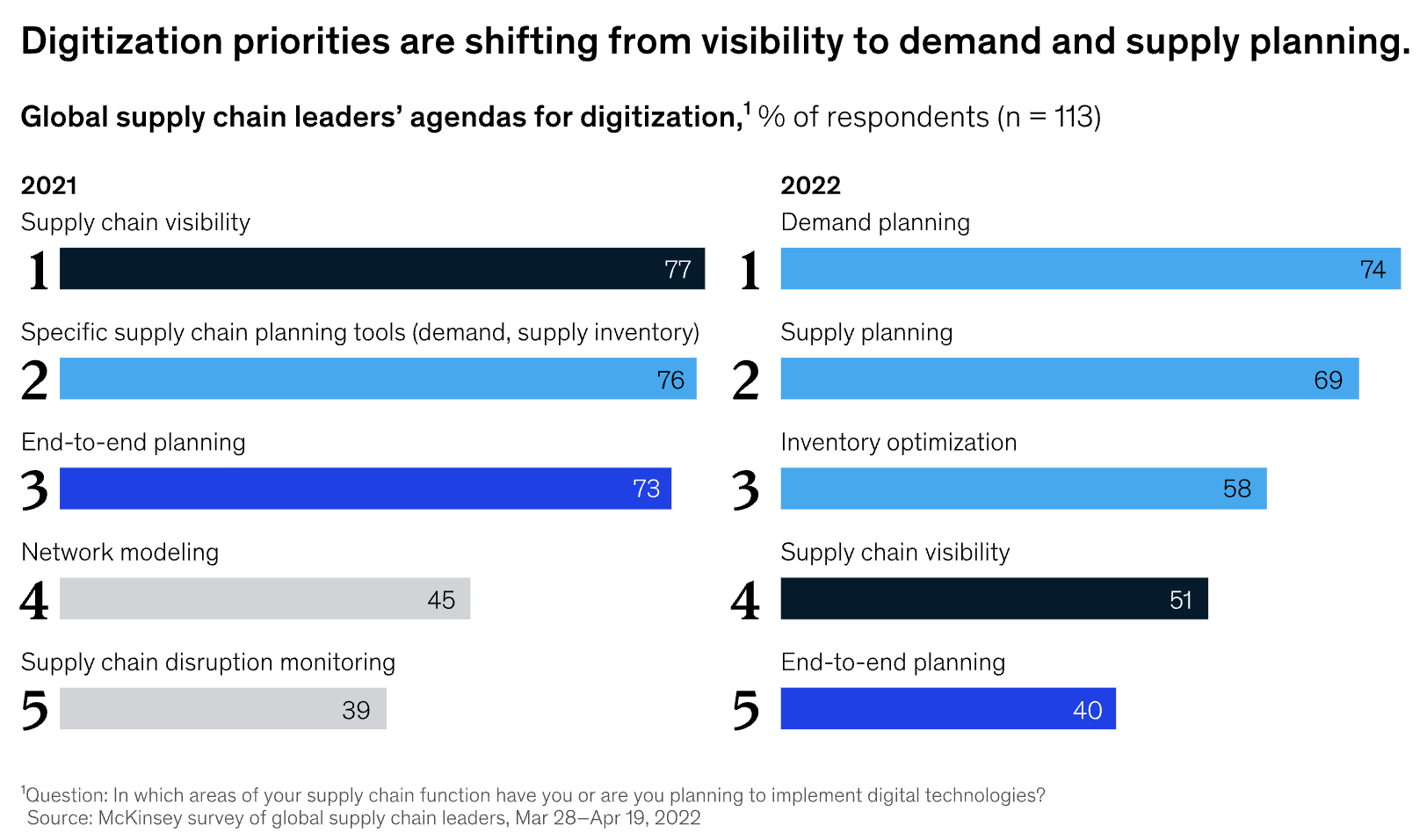 There is no doubt that demand for TMS solutions is increasing as a result of a number of trends. With the advent of cloud computing in the early 2010s, the growth of Software as a Service TMS providers has been accelerated. Supply chain disruptions - whether caused by a pandemic, a war in Eastern Europe, or 'on-shoring' to reduce reliance on low-cost manufacturing in Asia - began in 2020 and are expected to continue in the coming years. Finally, a looming recession is expected to favor digital solutions that reduce logistics costs, particularly freight procurement.
Another interesting trend is regarding the solution logistics professionals go to. Prior to COVID, most organizations go after traditional enterprise software companies such as SAP, and Oracle, but the new trend is more open to newer yet proven solutions that are more user-experience-centric and focus on faster results and ROI.
Why have digitization priorities shifted for some global supply chain leaders? Shippers once had fewer TMS options due to the high costs and implementation complexities that often came with such solutions. Today, many newer TMS vendors offer easy-to-implement cloud-based solutions that many shippers have already successfully implemented during the pandemic.
If you have fallen behind the curve and want to determine what TMS solution is the best fit for your organization, you first need to determine your level of transportation complexity. Gartner's model for holistic multimodal TMS provides a useful starting point by categorizing supply chain complexity into five levels:
As a general rule of thumb, the higher the complexity and sophistication of your transportation operations, the greater the capabilities and support you will need from a TMS and its vendor.
However, many shippers fail to perform proper due diligence to understand their current and future transportation requirements. Most shippers have multiple supply chain flows and expect a TMS to bring all the different flows online. Most TMS only focus on the more straightforward flows such as outbound or domestic freight, and can't meet requirements for more complex flows, such as international inbound, spare parts, and non-production related flows. When shippers fail to communicate their needs to TMS vendors who are more than happy to make a sale, shippers get left with a TMS solution that fails to meet their needs.
Common horror stories we hear from shippers are:
Overly complex features that is difficult for users understand
Long implementation time with no clear milestones and KPI
Heavy capital investment from the start such as consulting fee and license fee without indicative ROI
Most of the horror stories we've heard in the last decades from logistics professionals regarding TMS are avoidable. What we need is a focus. A focus to find a simple and user-friendly TMS that solves the real pain instead of being distracted by shiny objects.
Arnout Wagenaar, Chief Strategy Officer at Cargobase
To avoid these pitfalls, you as a shipper need to:
Have a thorough understanding of your organization's human resource capabilities and any gap between their capabilities and the TMS solutions under consideration. Then you need to consider the simplicity of the TMS solutions and the user experience.
Ensure the TMS solutions under consideration can integrate properly with any other systems you might have. However, be open to 'land and expand' strategy before signing on to full integration.
Remember that you might have less complex transportation management requirements, but very specific transportation needs. For example, if you want to stay agile with contract freights and spot-buy, some vendors can cater both, so your teams don't have to go through multiple screens.
Avoid the so-called vendor bloat trap or vendors who push features you know you will never need. Bloat also occurs when a TMS solution has many dormant features that you will never use but may still require configuration (even to deactivate) - making implementations, integrations, and system usage more complicated.
In general, you want a TMS that provides simple and easy-to-use solutions that solve current business problems quickly and can grow with your business over the long term. You also want a vendor who will keep developing and updating their TMS solution. Otherwise, you might face costly problems and uncertainties. You want to evaluate how innovative the vendor is as well as their technology. For example, cloud-based software that can immediately roll out updates evolves fastter than on-premise installation.
For example, Kuebix had been an aggressive TMS industry vendor - even going so far as to offer free TMS options to some shippers in their early stages. That alone got everyone's attention. However, Trimble shutting down their Kuebix TMS platform to pivot to an alternative product only two years after acquiring it came as a shock to the entire industry and Kuebix shipper customers in particular.
Remember, buying a TMS is not the same as buying computers and other hardware for your office. It will be a major investment that requires a long-term relationship or partnership with a vendor. If your vendor decides to shut down or sunsets your TMS for any reason, you will likely need to find and implement a new TMS solution - and pay all the costs associated with doing so.
With all of that said, and even though most pandemic-induced supply chain woes have eased, TMS remains in the center stage for shippers. If you are a shipper who still lacks a TMS, now would be the time to consider getting one to keep up with and stay ahead of the curve.