Welcome to the latest issue of our weekly No-Nonsense newsletter, an easy way to stay updated about supply chain best practices and news to #GetShipDone.
It's only been a month since 2023. 
Here's how most logistics professionals feel about the year of the rabbit...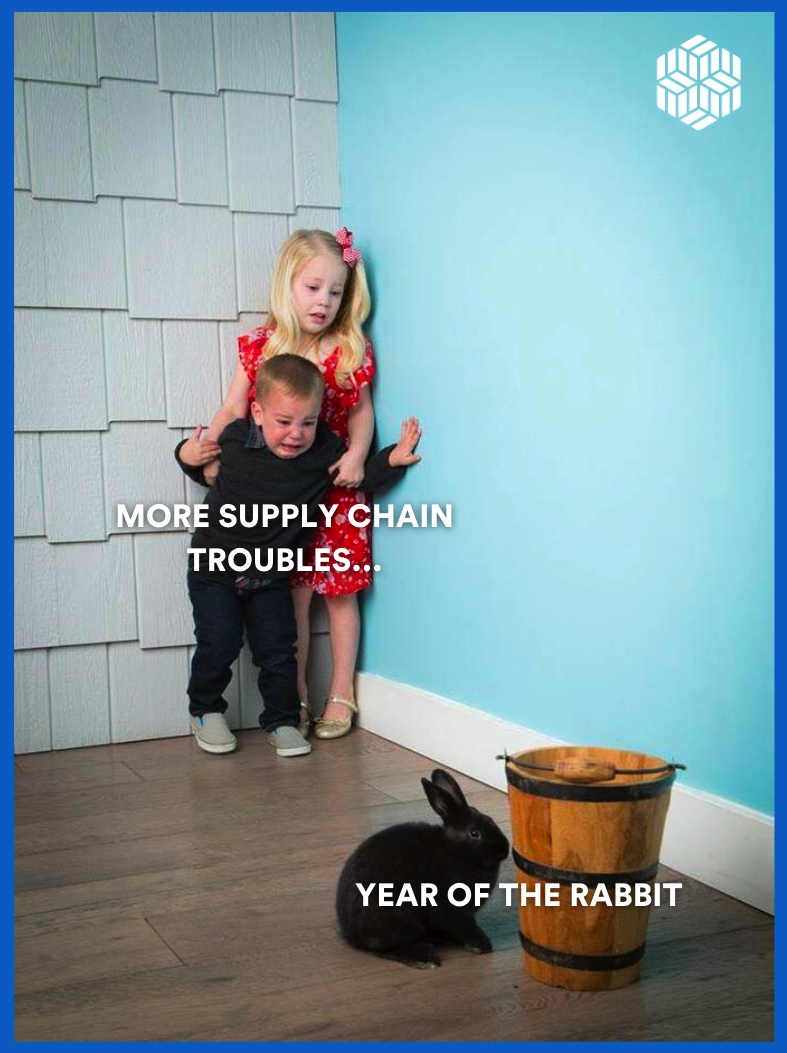 We're feeling the bumpy ride as we hop into the year of the rabbit. Here are the trends we observed in the last 30 days.
Schedule Reliability Continues Its Upwards Trend…
Sea-Intelligence's latest Global Liner Performance (GLP) report shows reliability continues to move in the right direction for all major carriers. However, Freightwaves pointed out that it's still a coin toss when it comes to a container ship arriving on time as schedule reliability stands at 56.6% versus low of 30.4%.
Chip Gluts and Crunches Continue…
According to Nikkei Asia, the chip oversupply for smartphones and data centres is not expected to alleviate until Q4. For personal computers, the supply glut is expected to peak in Q3, and then ease going forward.
However, there is bad news for the auto industry as analysts see supplies of power semiconductors used to control electrical currents and analogue semiconductors used for power supply management remaining under strain throughout 2023. According to a summary by US chip supplier Sourcengine, delivery estimates for power semiconductors have increased from between 31 weeks and 51 weeks as of the end of May, to between 39 weeks and 64 weeks as of November.
Some major automakers say part supplies will not return to normal until 2024.
Nevertheless, the CEO of Taiwan Semiconductor Manufacturing Co (TSMC) told analysts on a recent quarterly conference call: "Automotive demand continued to increase and today we're still probably not supplying 100% of the wafers they want, but it's improving…We expect the shortage to be relaxed quickly. We expect auto shipments to grow again this year."
Is a Midyear Airfreight Recovery Coming?
Through the first half of this year, TSMC is projecting a sharp drop in inventory in semiconductor supply chains. This casts a new cloud over the airfreight businesses that moves high-value microprocessors and finished consumer electronics.
FreightWaves has noted that market analysts and air logistics executives expect demand and rates for air transport to slide further during the first half. However, they say a rebound could start in the summer IF an anticipated global recession is mild and retailers start ordering to replenish depleted inventories.
In the meantime, shippers are reportedly gravitating toward one-time quotes for immediate delivery rather than committing to contract rates.And more shippers are shifting to cheaper space on passenger aircraft re-entering service after COVID.
Fixing Broken Supply Chains for Manufacturers
Deloitte and Manufacturers Alliance surveyed more than 200 manufacturing executives to produce the study, Meeting the Challenge of Supply Chain Disruption. The study found that manufacturers are turning to strategies in the following four key areas:
Strengthening existing relationships.
Diversification of supply chains.
Implementing digital solutions.
Returning to a just-in-case inventory approach.
With regard to #4, Deloitte's Paul Wellener observed in a recent DesignNews interview that it's a pendulum as in "we centralize and then decentralize." He also observed: "Now we have to look at just-in-case inventory to create a strategic buffer. In the near term, manufacturers won't pivot back to pre-pandemic inventory levels. That's inventory management – thinking about the lost opportunity versus the cost of carrying excess inventory. It's a matter of providing good customer service at the right cost."
Looking for Suppliers Beyond China…
According to a Forbes article, Global Supply Chain Crisis: Lessons For Leaders, both India and Saudi Arabia are stepping up to fill the supply chain void left by China. The Indian government has already taken steps to increase production capacity and open up its markets. The Saudi government is investing heavily in logistics infrastructure to strengthen its place within global supply chains.
Meanwhile, Mexico News Daily reports: 400 companies seek nearshoring opportunities in Mexico, says Econ. Minister. The companies are from North America and plan to relocate from Asia to Mexico to take advantage of the United States-Mexico-Canada Agreement (USTR) - NAFTA's replacement.
Not to mention that the end of Zero-Covid is not the end of supply chain disruption in China. A fire in Wuxi impacted the semiconductor supply chain again. The fire broke out at the Wuxi Welnew factory, which manufactures for Infineon, Vishay, and OSRAM. The plant primarily produced medium- to high-voltage MOSFETs and LED drivers, which are used in a variety of automotive and industrial applications.
The Breakup of Maersk and MSC
MSC and AP Moller-Maersk issued a joint statement announcing that the two companies had mutually agreed to end the 2M alliance in 2025. The Maersk-MSC alliance was formed in 2015 with a minimum term of ten years and a two-year notice period of termination. The lines state that there will be no immediate impact on services.
#ShipHappens. We get it. Here are some guides to help you succeed in 2023. Grab your copy, and let's #GetShipDone!